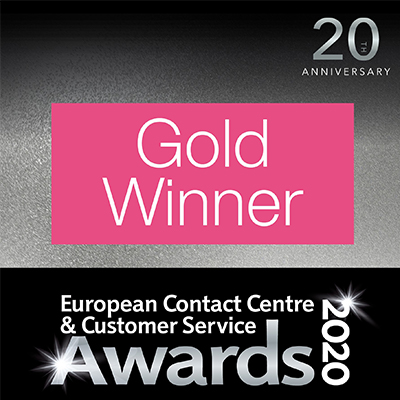 Housing association VIVID has been recognised at the European Contact Centre and Customer Service Awards, winning Gold in the category for public sector, healthcare and charities - 'Responding in a Crisis – Supporting Customers'. The win showcases how the organisation went above and beyond for its customers and communities in its response to the coronavirus pandemic and demonstrates the central role housing associations play within the communities they operate.
In its 20th year, the European Contact Centre and Customer Service Awards (ECCCSAs) is the longest running and largest awards programme in the customer contact industry. The awards recognise organisations across Europe that are leading the way in delivering exceptional service to their customers.
The award illustrates how VIVID exceeded its customer expectations in response to the coronavirus pandemic. It highlights how it was able to adapt quickly, use its technology to support employees and customers and use its financial strength to provide communities with the things they needed when they needed it.
Highly regarded for its robust judging process, the ECCCSAs award organisations that value their people, continually innovate to improve the customer experience and operate efficiently and effectively.
Mark Perry, Chief Executive of VIVID said: "We're delighted to win this award and it's a testament to the high levels of dedication and hard work that's been put in from our teams across the business, to ensure that our customers feel safe and supported. It's been a challenging year which has seen our staff adapt to a new way of working, without compromising our quality of service. We're proud of how we've worked together and with our partner organisations to help meet the needs of our customers and communities during these difficult times."
With entries from 26 countries competing across 36 categories, the ECCCSAs celebrated its biggest ever awards evening during its 20th edition, with over 2,000 people attending the virtual awards evening from 30 different countries. The largest group of industry professionals volunteered hours of their time to judge the finalists, led by industry ambassador Ann-Marie Stagg as Chair of the Judges.
Ann-Marie Stagg, Chair of the Judges at ECCCSA commented: "Winning an ECCCSA is something VIVID can be very proud of. They have been through a vigorous judging process, meeting highly experienced judges that can recognise 'the best' from our industry. Congratulations!"